Planning for the Unpredictable, The Future of Healthcare: The Shifting Burden of Risk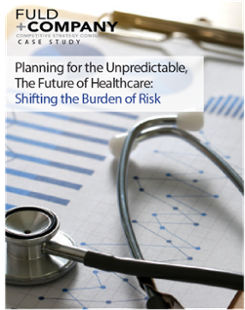 Given the uncertainty surrounding the healthcare industry, stakeholders struggle to develop business strategies that can guide both near- and long-term competitive and market positioning.  Health insurers, in particular, are trapped – most are hesitant to pivot too far from their current strategies as markets remain profitable, but the forces buffeting the industry could quickly erode their market advantages.
This case study outlines the key research and outputs of a scenario-planning workshop conducted on behalf of several plans from a nationally recognized payer organization. The study identifies the strategic considerations businesses must plan for, not react to, in the shifting healthcare marketplace.
Download the Whitepaper:
Tags: Competitive Strategy, Health + Life Science, Healthcare, Payer, Scenario Planning, Strategic Planning