The Importance of Leadership and Brand Alignment
Posted by |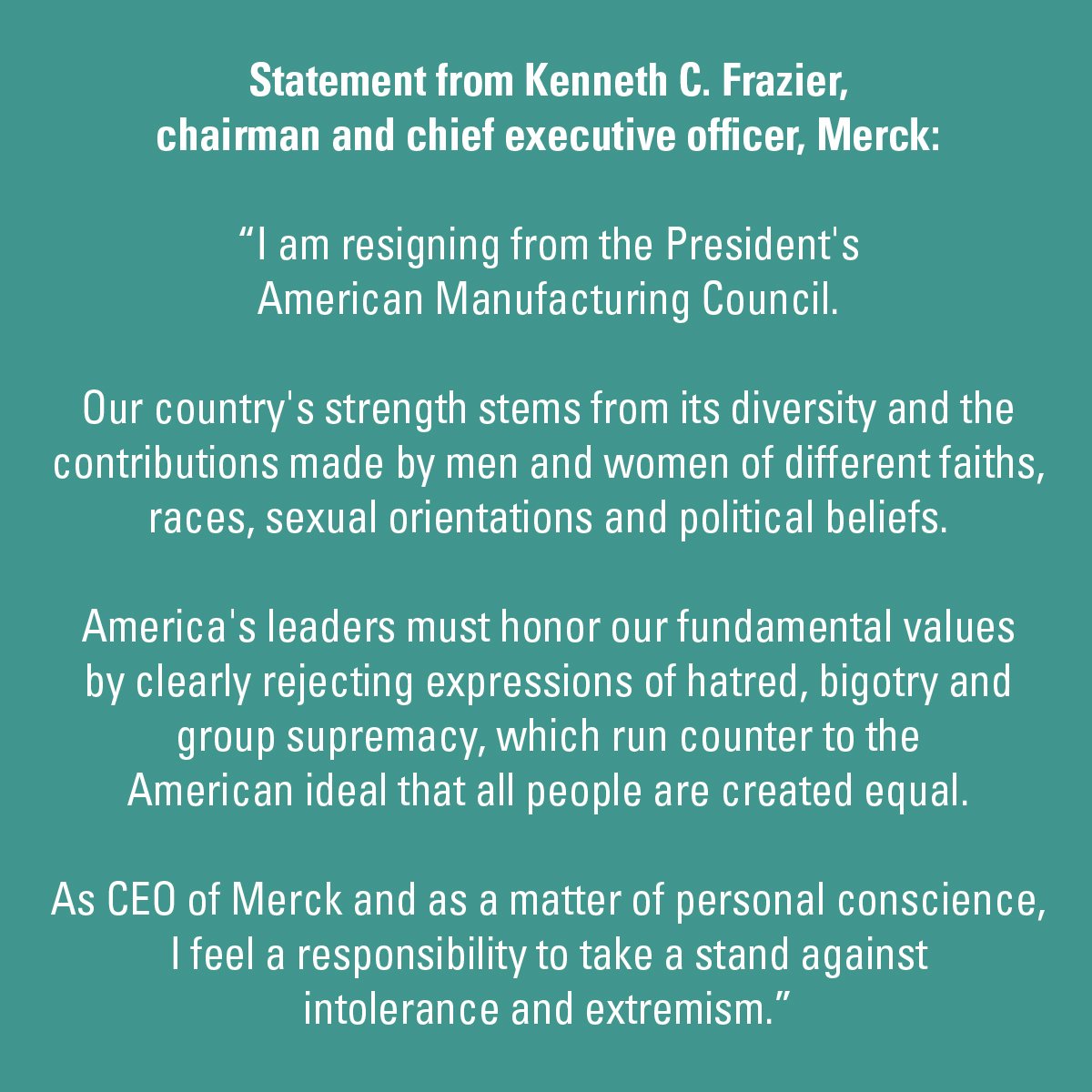 On August 14, 2017, Kenneth C. Frazier, Chairman and CEO of Merck, resigned from President Trump's American Manufacturing 
Council. In his official statement, Frazier said:
"America's leaders must honor our fundamental values by clearly rejecting expressions of hatred, bigotry, and group supremacy, which run counter to the American ideal that all people are created equal," Frazier said in a statement. He added: "As CEO of Merck, and as a matter of personal conscience, I feel a responsibility to take a stand against intolerance and extremism."
This is not the first time a CEO of a major organization has stepped down from one of the President's advisory committees. Elon Musk, CEO of Tesla and SpaceX, stepped down from both the strategy and policy forum as well the manufacturing council after Trump withdrew from the Paris Climate Accord, an international environmental agreement. Tesla's brand image was founded on the ideals of reducing greenhouse gas emissions through the development of electric vehicles, and Tesla states that its "mission is to accelerate the world's transition to sustainable energy." Withdrawing from the Paris Accord goes directly against this mission, and in removing himself from the forum, Musk, as the face of Tesla, stood up for that mission.
As a major U.S based pharmaceutical manufacturer, Merck's mission statement is to help save and improve lives. Its employees take this mission to heart by bringing jobs to the US through their manufacturing plants, investing heavily in research and development of new vaccines and medications, as well as providing their existing customer base with fairly-priced, often life-saving, medicine. In both the Frazier and Tesla cases, the CEOs recognize their role in setting the ethical tone of their respective organizations.  In stepping down from his appointment on the manufacturing council, Frazier solidified Merck's brand image as one that values diversity and inclusion. Since Frazier stepped down on August 14th, 2017 other members of the manufacturing council, including Scott Paul, head of the Alliance for American Manufacturing, Kevin Plank, CEO of Under Armour, and Brian Krzanich, CEO of Intel, have followed suit, citing the same reasons as Frazier. These executives and the brands they represent emphasize that they value unity, diversity, and inclusion, and by stepping down from the councils, they feel they are truly committing to those values.
Whether you agree with Frazier's decision or not, he stood up for the ideology of his brand. As CEO, he is the face of Merck, and as such must be willing to commit to, articulate, and demonstrate the company's core values. The CEO of an organization is the one who determines its ethos. In standing up and resisting, Frazier committed to the ethical and moral values Merck has set forth.
The consequences of not standing up for brand values is as powerful as underscoring them, as demonstrated by the ousting of Uber CEO Travis Kalanick, who was forced to resign in disgrace after several major scandals, including instances of sexual harassment and poor treatment of workers. His resignation was connected to the fact that Uber's brand touted an image of equality, opportunity, and fair treatment for all people, and Kalanick's behavior actively disregarded these ideals.
With today's news cycle spinning more rapidly, more politically, and more personally than ever before, the line between an individual's beliefs and actions and politics and business is becoming narrower and narrower. Maintaining and attesting to your company's brand equity and public messaging is critical to sustaining competitive advantage in such a tumultuous environment. Frazier, Tesla, Plank, and Krzanich have received accolades for their decisions.
Other CEO's, take note: it's one thing to have a strong, positive brand image; it takes concerted action and commitment to protect the integrity of that brand.
Tags: Brand Strategy, Competitive Intelligence, Risk Management